CONTAINER HOUSES ALL YEAR
CONTAINER HOUSES
Production and assembly
The company Ultramodula offers design, production and installation of innovative container houses. We specialize in the construction of metal single-family buildings based on the CONSTRUCTION OF THE CONTAINER.
Our CONTAINER cottages are characterized by high quality and durability. Production takes place in our production hall with the use of professional equipment and in compliance with all construction standards. We use innovative modular solutions that allow us to build such facilities in express time while maintaining all kinds of economic aspects.
CONTACT
Arkadiusz Belz
tel: + 48 734 734 439
e-mail: a.belz@ultra-group.pl
Andrew Pakula
tel: + 48 734 734 639
e-mail: a.pakula@ultra-group.pl
ADVANTAGES OF ULTRAMODULA CONTAINER HOUSES
Modularity - the possibility of free configuration of a modular steel structure
Fast assembly time - the use of an innovative steel structure
Price - carefully selected materials and fast construction time
Durability - unchanged mechanical and anti-corrosion properties - over the years
Quality - quality control at every stage of the process and professional building materials allow us to achieve high quality
APPLICATION OF CONTAINER HOUSES
floors
Floors finished with OSB mounted on metal profiles - ready for laying the panels.
walls
The walls are finished with a gypsum board screwed to the metal frames - ready for plastering and painting.
Internal carpentry
Made openings for the door - ready to insert frames and doors.
Electrical installation
Flush-mounted electrical installation with ready-made points - ready for installation of sockets and switches.
Water instalation
Flush-mounted water installation with ready-made points for washbasins and toilets - ready for installation of fittings.
Sewerage installation
Flush-mounted sewage installation with ready-made wash basins and toilets - ready for installation of fittings.
Heating installation
A flush-mounted heating installation with ready-made points for radiators. Air-to-air heat pump heating source
Exterior carpentry
Windows Uw = 1,1 W / (m2K) * with steel reinforcement, for a glass with a coefficient of Ug = 0,7 W / (m2K).
Entrance doors fully armed.
Stairs
Treatment stairs made of a welded steel structure, anti-corrosive, painted with wooden trepes.
Thermal insulation
Walls - 150 mm thick stone wool insulation
Floor - stone wool insulation, 150mm thick
Roof - rock wool insulation, 150mm thick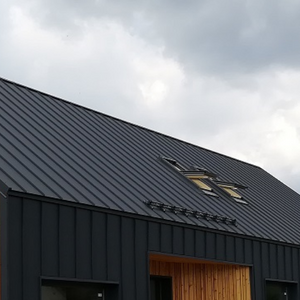 roof
The roof is finished with steel tiles with a standing seam in RAL 7016 color, 0,5 mm thick.
Elevation
The façade is finished with a pine cladding board secured with a protective and decorative agent with sheet inserts for the standing seam.
Ultramodula container houses are a perfect solution for people who dream of having their own four walls in low price. The house is built entirely on the production hall and then it is brought to the customer's plot as a ready building. Container houses without a building permit They are perfect as houses for rent or private use, not only in the summer but also all year round. All models of our houses have a built-up area not exceeding 70 m2 so we will build them in accordance with the new regulations on request.